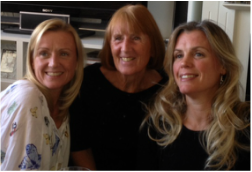 Love and Namaste,

My Mum, Audrey Maxwell, my Sister, Sam Winstanley-Cronin
and I, Tania Heritage, are the very grateful owners of a little boutique yoga studio in Markham.
We have the entitlement of working with some of the most beautiful
​yogis and yoginis in the world.
We are humbled that you have come to visit our web site.
Thank you.

---
​Our classes are rich in content and warmth, with no more than 10 students ever in a class, you can be assured of your safety and close guidance throughout your class.

All of our classes, workshops and children's yoga educational programs are taught by experts in their fields, who are also certified and registered yoga teachers.

Our Yoga Teacher Training Programs are designed to share yogic knowledge from where yoga began, to where it is today. Our faculty is made up of experts in Yogic History, Philosophy, Ayurveda, Anatomy & Physiology, and we are honoured to welcome experts in trauma sensitivity to our team this year. Our lead yoga trainers, are experienced yoga teachers who share their wisdom and knowledge, their styles and their values.